This story is based on a true story, only the names and personal details of the people have been changed. After all these years, I don't know whether it happened in detail – in any case, the story was not made up!
I had been with Iris for a couple of months. After both of us cheating a few times, we decided to have an open relationship. While Iris liked to have a drink and then let random types indulge her, I had fun with a colleague of mine.
Iris was pretty nymphomaniac anyway. Young or old, man or woman – Iris was always open to sex.
I was around 25 years old at the time, 1.80 meters tall, of normal stature and long, brown hair. Iris is half Greek and half German with long brown hair. She has a slightly rounded face, is around 1.60 meters tall and has beautiful brown eyes.
On Saturday the party was announced again.
We went to a club where we often danced. While Iris was already clinging to a beer, I sipped my Coke. The mood in the club was still a bit weak when suddenly the lights were dimmed and the music changed. A graceful beauty entered the small stage.
My pulse was right at 180 when I saw her. As a typical man, I first looked briefly at her face and then at her body.
The dancer had full lips which were painted pitch black. She was obviously a goth girl – which I liked a lot.
The pretty face was framed by long, curly black hair. She wore a black bustier that just barely covered her rather small but shapely breasts. Below she wore only stockings with a suspender strap and small black panties. Fortunately, I was in an open relationship and so I could watch uninhibitedly without my friend Iris making any jealous capers.
The lightly clad creature danced to hard rock sound.
It was kind of a sexy pool dance – I thought at first. After about a minute, the dancer suddenly tore off her bustier and was now only wearing a black bra, suspenders and high heels. The slip turned out to be a thong. The music kept rocking and so did the mysterious dancer.
Now she lay lasciviously on the floor so that her firm buttocks came into their own. The longer something stirred in my pants.
After another hot dance interlude, she took off her bra with a lightning-fast movement. So she stood up there – only dressed in high heels, suspenders and a thong.
"Wow" I only thought when I saw her cute little tits. She was a real sex goddess, it crossed my mind. Her hands slid up and down her naked body and my cock almost exploded in my pants. Now she turned around and grabbed her thong right and left with her hands.
I caught my breath. But I couldn't see her love triangle – the show ended as abruptly as it had started. The dancer withdrew to the backstage area and the party continued on its usual, slightly boring course.
About an hour later I saw the stripper standing around on the edge of the dance floor.
After a few moments my friend Iris was standing next to her. Apparently the two already knew each other. With the two pretty girls in the corner of my eye, I kept dancing.
At some point the party got boring and I and Iris wanted to make our way home.
But apparently Iris still had something on her mind. First she ducked around a bit and then finally asked if her colleague Rahel could stay with us. "Rahel?" I asked a little uncertain. I couldn't remember a Rachel, and my name memory isn't exactly the best either.
"Rahel is standing back there!" Said Iris and pointed to a crowd. The strip dancer from before waved shyly and smiled. I tried not to stand there with a big grin but looked professionally bored and just said: "Ah, ok. Yeah sure why not?".
A stone fell from Iris' heart and she waved Rachel over to us. After a warm welcome, we decided to leave immediately. We called a taxi and got to our house in no time.
The TV was still on and we sipped some drinks at home. Since the evening had gotten a bit late or early, we decided to go to bed.
I, Iris and Rahel got ready for bed. I left my black t-shirt on and just took off my pants. I was wearing thin boxers and immediately slipped under the covers. Under no circumstances did I want to risk a small or large erection developing – that would have been too embarrassing for me.
Rahel and Iris weren't exactly putting on lingerie either. No, on the contrary. Iris took off her pants. Under it she only wore black underwear which almost disappeared in the buttocks crack.
This was how her cracking butt really came into its own. She also left her T-shirt on. Rahel, on the other hand, needed her T-shirt for the next morning (she didn't have a change of clothes with her). Iris helped her out with a white t-shirt.
Well – t-shirt was maybe a bit of an exaggeration. It was more of a scrap of fabric that was cut a bit too wide all in all. My eyes easily caught her black lace bra under the T-shirt. Now she took off her skirt without further ado.
Underneath, she only wore black panties (probably the matching counterpart to the lace bra).
Iris's bed was okay for two people – but three of them were quite cramped. Well – we had to go through that, it was only for one night. I was at the very back and squeezed against the wall.
Rahel was right in front and Iris was penned in the middle. It was time to sleep – turning around was quite a pain. For now, however, we watched some TV because all three of us weren't really tired.
The television flickered insignificantly. I looked bored at the screen.
After a few minutes, Iris moved strangely. What was she doing? I prop myself up a little to have a better look.
At first I was amazed. Then shocked.
Then annoyed.
Iris had actually started to nod from the back of Rahel's white T-shirt. Oh man, how embarrassing was that now? In a few seconds Rachel would jump up and leave the room. She would look at Iris and me in disgust.
Why the hell couldn't Iris even keep her stylus under control?
But nothing of the sort happened. Nothing at all. Rahel actually kept still and let Iris caress her orange-sized breasts through her T-shirt. She wasn't just so calm out of shock.
No, actually I saw how she obviously enjoyed the touch of Iris and also hugged her lightly with her back.
Iris's tender fingers kept sliding over the thin fabric of the T-shirt. You could clearly see the hardened nipples through the shirt – although Rahel was still wearing a black bra. I heard Rachel breathing a little harder. With skillful finger movements, Iris was in Rachel's bra in no time (without opening it).
I didn't see it exactly, but apparently she was stimulating Rahel's hardened nipples with her fingertips . With a low groan, Rahel turned around. She looked at me out of the corner of her eye and I saw how cool she was apparently already. She turned her head to Iris and immediately began to kiss her.
While my mind was still completely surprised by the situation, my body (or my little friend) slowly but surely made itself felt.
Iris as a thoroughbred nymphomaniac noticed this immediately and immediately stretched her ass in the direction of my boner. When I felt her soft flesh my cock swelled even more – which in turn elicited a lustful sigh.
So now I was lying there in a cramped bed. In front of me – pressed against my body – Iris was snogging wildly with a stripper. The two girls became more and more passionate.
Rahel soon went on the offensive and slipped her left hand under Iris' shirt. In contrast to Rahel, Iris had slightly smaller tits and therefore had no bra underneath. Immediately the cool fingers of Rahel twirled on the buds of Iris, which twisted with lust. Now the perfect time had come to bring me into the game.
While Rahel was still kissing Iris deeply and kneading her small breasts with her fingers, I pushed myself closer to Iris so that she could now feel my plump cock for sure. I nibbled a little on the back of her neck and then started licking her neck up and down. I knew she was doing it wildly. She liked it by rubbing her ass a little harder on my cock.
Suddenly Rahel bluntly grabbed Iris's T-shirt and pulled it over her head. Iris was now lying with her warm, almost hot bare torso between me and Rachel, who immediately began to caress the left breast of Iris. I also began to pamper the nipple of the right breast of my loved one with my pointy tongue. I felt the normally swollen nipple getting even harder.
The slightly salty skin of Iris smelled wonderful and I licked the nipple more and more wildly. Right next to me, Rahel worked on the other nipple and so we got closer and closer. Should I dare to get closer to Rahel or would Iris get jealous? Not as I judged them to be, but you never knew. While I was still thinking about this, Rahel licked more in my direction.
We looked briefly into our lustful eyes and immediately sank into a passionate French kiss. Iris didn't seem to mind – her hands wandered to her breasts which she rubbed – no, kneading in full lust was probably the better expression.
I continued my passionate French kiss at Rahel and ran her through her beautiful long hair and caressed her along her neck. Meanwhile, I soon felt a hand on my fly – of course it was Iris (that was her typical sign for "I want sex now").
But instead of immediately turning to her, I nibbled at Rahel even more. Iris shifted up a gear and started massaging my hard cock through her pajama pants. After a few seconds the pants were pulled down and Iris's cool hands brushed my pleasure stick while I kissed the dark-haired stripper Rahel. While our tongues played with each other, Iris began to wank me faster and faster until I had to back off a bit so that I wouldn't have splashed the two brats right away.
Iris smiled with satisfaction – her nimble fingers apparently weren't out on me yet.
I turned back to Iris' left breast while Rahel turned back to the right one. I knew exactly what tongue games Iris Tittchen liked and teased her nipple. Rahel, too, licked eagerly at Iris' right breast. Meanwhile, Rachel and I began to stroke Iris all over her body.
Our fingers slid over her bare skin, trembling with pleasure. We let off Iris's sweet breasts with our tongues and devoted ourselves entirely to our hands. Almost synchronously we first stroked her shoulders, slid her arms down, next to her legs and then up the insides of her legs again. Iris lolled like a cat when my hand accidentally came closer to her black panties.
I leaned back down to Iris and kissed her deeply. Meanwhile, Rahel's narrow hand slipped into Iris's panties and Iris immediately moaned joyfully. Rahel immediately pampered Iris Lustspalte with her fingers while she really pushed her pelvis upwards with lust.
So we dedicated ourselves fully to Iris – which she clearly enjoyed. Rahel soon pushed Iris's panties off her body and immediately teased her labia with her tongue.
Before I knew it, Rahel's head sank completely between the legs of the freshly shaved Iris and began to suck eagerly. What is it like as a woman to lick a strange woman?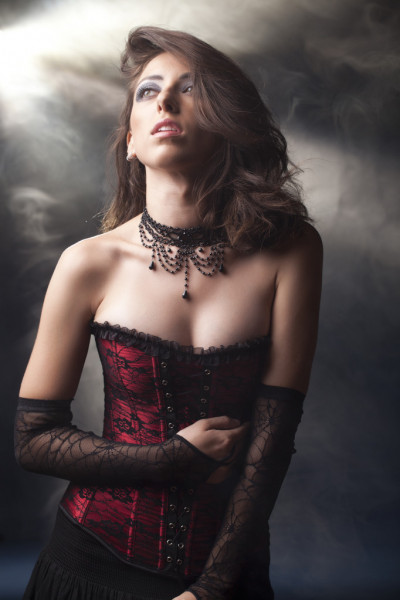 In any case, Iris liked it as you could tell by her breath, which was getting faster and harder.
Instead of continuing to knead Iris's tits, I wanted to dedicate myself to Rahel again. After all, you don't have such a sharp, stark-naked bride within reach every day (except for Iris).
I got up and positioned myself behind Rahel. So I had a great view. Iris lay naked on her bed with her legs apart. She touched her breasts lightly with her hands, her eyes were half closed and she seemed to be in a trance.
No wonder – Rachel kneeled in front of her, who eagerly licked her cunt, which was apparently about to leak. It was a feast for the eyes as the slim Rahel dressed only with a black thong licked my friend. I knelt behind Rachel and ran my hands over her bare back. I sucked in her wonderful scent – she smelled really delicious.
Her smell mixed with that of Iris' soaking wet cunt. From behind I grabbed her firm tits and skillfully kneaded her tough nipples. My right hand now wandered towards the ass. I pinched her bum lightly.
It was a crack butt of the first order. I massaged her ass cheeks a little harder and pressed my hard and pulsating cock against her bottom. Rahel was not deterred and continued to lick Iris with full devotion.
My right hand now wandered further down between the legs at Rachel's bottom. My fingers ran very gently over her panties.
As if by chance, I kept touching her clitoris. Rahel apparently wanted more, because she made a hollow cross so that her ass stuck up and her cunt, which was covered by the panties, came to the fore. "All right, you can have that!" I thought and pushed her panties aside. Immediately I penetrated with my middle finger in the meanwhile dripping with lust, cunt.
With quick, skillful movements I massaged Rahel's clitoris. She pressed her ass back tighter and tighter – obviously the little one liked to be pampered with her finger while Iris was licking her. Driven by lust, Rachel's tongue flitted faster and more violently over the twitching cunt of Iris while she stared at the ceiling as if in a trance and caressed her nipples. Iris was soon tensing tighter and tighter.
"I'm coming" she whimpered and then she came too, the dark-haired beauty moaned her orgasm long and hard.
Rahel stopped licking and Iris slowly sat up and smiled with relish. Such a threesome was apparently entirely to the taste of my nymphomaniac friend. And while I was still fingering Rahel's cunt, Iris gave Rahel a deep French kiss, so to speak as a reward for her licking skills.
Then Iris looked over at me with her fawn eyes. She saw how I fingered Rahel and my face moved closer and closer to Rachel's ass. Iris knew how much I enjoyed pampering a woman with my tongue and immediately knew what I was up to. She smiled at me and then gently but firmly turned Rachel onto her back.
Immediately I had Rahel's magnificent cunt in front of my face. Her labia were slightly longer and peeped out of her pussy. Apparently Rahel had had fun so far – in any case, her swollen pussy literally shone from her lust juice. I stroked her legs up and then held my cool hand on her steaming column.
I felt it pulsate under my hand. I increased the pressure a little and made slow circular movements. Rahel pressed against it with her abdomen. Somebody had gotten pretty horny there.
Iris began to lick Rachel's beautiful small firm breasts. I pulled my hand away and opened Rahel's cunt with my fingers. I breathed in her scent deeply. I loved that pussy smell.
She smelled different than Iris. Not better or worse, just different.
A light breeze blew out of my mouth, directly in the direction of Rahel's open cunt. I repeated the whole thing a few times until Rachel lifted her pelvis up in the air with lust.
I grabbed her ass from below with my big hands and then approached her column with my tongue. First I licked it as if by chance, then again, then a little more slowly. Very slowly I started to lick her. It was a dream to have her delicious twitching cunt in front of my face.
She literally dropped and my tongue took over the direction. Sometimes faster, sometimes slower, sometimes harder and sometimes more gently, my tongue circled over her clitoris and her labia. In between I hardened my tongue and easily penetrated her hole like a tail. Rahel enjoyed being at the mercy of my tongue and she was breathing faster and faster and also began to sweat.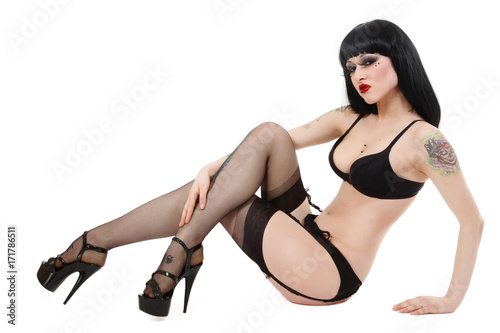 The whole room was now filled with her pussy scent – mixed with the scent of Iris Möse and a light, very hot sweat note from Rahel.
While Rahel was pampered by me, Iris let go of her tits briefly to whisper something in Rahel's ear. She whispered something back and they both smiled conspiratorially. I did not let myself be deterred and continued to lick Rahel's cunt obediently. A moment later Rahel slipped away from me.
"So, lie down!" Ordered Rahel. Out of sheer lust I did what she told me to do. Now I was lying stark naked on the bed and next to me were two wonderful also naked girls. Rahel slid around on me a little awkwardly until she was finally on top of me in the 69 position.
I had her wonderful cunt right in front of my face. I quickly felt how her gentle fingers began to work on my hard cock. It was a real pleasure how she skillfully pushed my foreskin back and forth. Before I knew it, I felt something wet over my cock.
Rahel had started to lick my cock. Immediately I started licking her wonderful pussy. It was a really great pleasure to have her cunt right on my face while her fast tongue worked my glans. I would never have dreamed that the evening would end so great.
But that's not all.
Soon I felt a second tongue. Iris had started to lick my balls very gently but firmly. The bitch knew exactly how much I loved it when she licked my sack and my shaft with her tongue.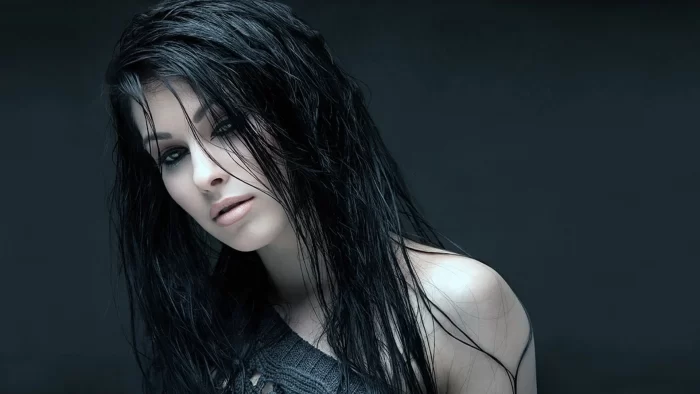 Meanwhile, Rahel held my stiff cock tightly in her hands and rubbed it like a professional.
The whole thing was getting too much for me.
Two beautiful naked women in bed. The one above me, her wet cunt pressed into my face and my steel-hard cock in her sweet mouth. The other licked my balls and shaft like a little dog. I felt my juice collect.
"I'm coming!" I moaned half shamefully. But Rahel just replied coolly: "We want to hope so!".
That was too much. With presence of mind, Rahel took my boner out of her mouth and continued wanking it. Iris kept licking obediently.
My juice shot down on Rachel's face in an incredible orgasm and ran down her. Iris also got some of my pleasure juice. It was just awesome how the two girls worked me and squeezed out the last drop of my pleasure juice.
That was the hottest group sex I've ever had.
If you ever get the chance to have a threesome – indulge yourself and enjoy it. It is worth it!